---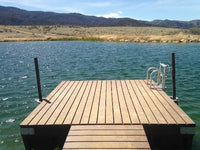 DIY 10' x 10' Swim Platform or Dock
10' x 10' Swim Platform or Dock
This is a great dock, especially if you don't mind doing a little bit of the work yourself. We provide everything you need to build it, except for the wood! That includes the floats, outside corners, inside corners, hinge connectors, lag bolts, carriage bolts, washers, nuts, SS deck screws, etc. We even provide detailed plans and a list of wood to go purchase. 
You can spend a lot of money on a prefabricated dock and walkway but why not just buy our kit and with a few hours on a weekend, it's done! Our floats are a one piece rotational molded part, which eliminates seams that could cause water leakage. We use a thick shell of extra strong, virgin polyethylene containing UV inhibitors. This makes our floats resistant to the sun, salt water, fresh water, oil, gas and marine organisms. Each float is foam filled with expanded polystyrene for optimum flotation.
Our plans use 2" x 8" pressure treated wood for the frame and runners then your choice of 2" x 6" deck boards, 5/4" boards or composite for the top. Our 4' x 8' connectors are designed to pivot up and down at all connection points. This allows the dock and gangways to move with the waves, not fight the waves!
Combine the dock with one, two or even three of our gangway connectors and your set to go. We also have a nice floating dock ladder that makes climbing in and out of the water much easier.
You won't find a nicer dock for the money - Guaranteed!